I've been building myself up to start this post. It's going to be a biggie, so apologies in advance. I'm going to split it down into two (like with the kitchen) but still, you can reward yourself with a cup of tea (or something stronger if you need it) when you get to the end! Or maybe get one now – you might need it!
First things first. Where's the bathroom? Unlike most houses round here, our bathroom is upstairs (it originally would have been the third bedroom). The door is right in front of you when you get to the top of the stairs, and it sits above the kitchen. "That makes for a pretty big bathroom" I hear you say. Yes – it does! Which in part is why we could do what we wanted to with the design, because space isn't an issue – it's approx 3.2 x 3.7 metres.
After the whole renovation, the bathroom is the room I am both most proud of and most annoyed by. We'll start with the good bits;
Why I am proud
It is the one room which turned out to look exactly as I wanted/imagined without compromise – mostly.
It is, I think, the most interesting room in the house and the room which looks most 'designed' rather than just cobbled together!
While we definitely did not get it done in the (ludicrous) timeframe we originally gave ourselves, we did get it done before we started looking and smelling like homeless people. Just.
It is a serious transformation.
The story
So here's the before pic from the estate agent's particulars, which in all fairness could have been worse:
Mmmm beige…
The day after we got the keys, Husband took the boiler off the wall. Being a gas engineer, I'd told him that the boiler/radiators were his domain and to do what he wanted, and after about 5 seconds he'd found out that the 'perfectly reliable gas central heating' didn't actually work. Luckily the shower was electric so we did have some hot water, and at this point we weren't living here, so it just meant the builders had to make their tea in the bath. Fine.
Aside from a quick-ish swap over to a nice new Vaillant combi boiler, the only other immediate work, while we had no boiler, was to strip and re-plaster the wall it sits on. As you can kind of see in the pic above, the boiler part of the wall is proud of the window part of the wall. That's because it is the old chimney breast from the rear chimney which would have served the original Victorian stove in the kitchen.
When we bought the place there was an actual hole you could feel the breeze through in this wall, from where the chimney stack had leaked and cracked and the damp had blown all of the plaster internally. We removed the chimney stack entirely and had that part of the roof tiled over, easy peasy.
While there was no boiler on the wall we had a very enjoyable day of taking the blown plaster off – which took shockingly little effort! – and re-boarded it, ready for a new skim.
That pretty much sums up the total amount of work done in the bathroom for the first 10 or so months. We really started to mess things up when we sorted out the utility room/kitchen and again, it was instigated by Husband and central heating needs…
So, to put a radiator into the utility room to make it a usable space rather than a dumping ground, the central heating pipes under the bathroom floor needed to be accessed, to put a new joint onto, to run through a hole "we" cut into the kitchen ceiling and through the wall into the utility room which is a single story extension. Simple.
However, to access the central heating pipes, we needed to take up the bathroom laminate floor. To take up the bathroom laminate floor, we basically had to trash the bathroom laminate floor. The floorboards underneath, no matter how solid and how many times I hoovered/mopped, was in a similar state to those you'd expect in a derelict drugs den. Covered in paint splodges, random blobs of plaster and sealants, it was rough under foot and just plain manky looking.
We lived with it for a few months – we even tried piecing the laminate back together in the heavier traffic areas, which just didn't work – but this, combined with the fact that the electric shower really was rubbish and the insipid Cowparsley patterned tiles were really doing my head in, prompted us to make a plan.
Step one was to take the ceiling down and re-do it. It was pretty much falling down anyway, again thanks to the leaky chimney. It was just held in place by woodchip wallpaper, so this was a horrendously messy but relatively painless process… until I was the one having to help Husband to re-board it. Plasterboard is heavy and when you're stood on a ladder holding a 1.2×1.8m sheet of it above your head, it's even heavier.
I think we had a Dominos delivery to reward us for that day. We got it re-plastered by someone else.
Step two was a slightly structural type job and was part of an additional plan to make the landing lighter, by reinstating the glass panels above the door, so the light from the bathroom would spread. For whatever reason, the previous owner had just painted the original glass panels that were there. Still can't understand why. We made some new frames and ordered some bits of glass and it made a huge difference.
From the landing side of the wall
Boilers are ugly and we own a lot of stuff, so step three was to make a big cupboard for that corner of the room to hide it all. The room is well big enough for a giant cupboard…
How exciting! We have a plastered wall with no holes behind the shiny new boiler, a plastered ceiling with new loft hatch and a nice wooden frame for a big cupboard. And look at that pipework. Dreamy. But also, take a look at those floorboards. Not so pretty.
Step four was to decide what we actually wanted for the new bathroom! And bizarrely, given that I have no previous experience in bathrooms, and didn't make a single Pinterest board for bathrooms, I somehow knew exactly what I wanted. It might have come to me in a dream and I'm not even joking. I have exceptionally mundane dreams.
So, I knew I wanted travertine tiles on the business side of the room. I just love the variation in colours, warmth of tone and slight Mediterranean feel to them.
Plus, our tiled area includes two window recesses and two cubby holes for toiletries and I didn't want to have the hassle of using metal edging like we did around our tiled splashback in the kitchen to hide the ceramic edges, so natural stone tiles, with their own nice looking edges, was the only way to go.
Within 5 minutes of getting a Little Greene paint chart through the post I knew I fancied Tracery II walls – a light greyish green.
So then imagine my delight when I flipped the chart over and read their description for it;
"Tracery II – No 78. This lighter version of Normandy Grey (No.79) is a very sophisticated colour favoured by architects it can be used with great style to off-set limestone, marble and granite"
Ok, so we were getting Travertine, but it's quite similar to limestone! Mother was staying at the time and I remember her squealing "Ooh aren't you so clever with your colours" at me. Well I am an Interior Designer, Mum…
Anyhoo, the third thing I knew I wanted was a patterned floor. I was hoping for a nice Victorian tiled hallway downstairs, but when that didn't materialise from under that load of laminate, I thought the fun place to put it would be the bathroom. After a brief dalliance with the idea of actual tiles, and a visit to a friend's house who had just laid a fab hexagon patterned lino, we decided on the much cheaper, practical, and warmer under-foot sheet linoleum option. A cheeky "cheap patterned lino flooring" Google and I found this little beauty on eBay…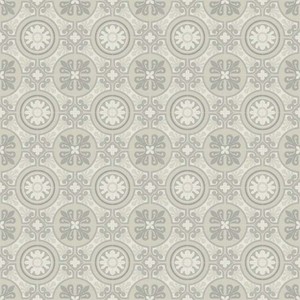 Flooring – done!
The last thing that I really knew I wanted was a vanity unit. I wasn't quite sure on the style, but I knew that I didn't want to end up with shelves or clutter anywhere else, so I wanted storage for our day-to-day toiletries and boring stuff like that. Along with the rest of the world, we'd heard good things about Victoria Plumb, so again, it was a really quick job of falling in love and again, strangely, Husband going along with it…
We got cooler, more modern, taps than these ones though…
The rest was decided by Husband's refusal to significantly move the pipework, so in terms of the sink, loo and bath, they were staying where they were – and in fairness, I'm not sure if there would have been a better placement anyway. We're both pretty long in stature, so we wanted a big bath, and the size of the room meant an 'L' shaped one was a perfect fit.
A couple of hours online and with tape measures in hand, we ordered our bathroom furniture through Victoria Plumb and taps and shower through Victorian Plumbing. Not to be confused with one another. Here it all is when it arrived;
The dining room, yet again, doing an excellent job of builders yard…
Here's a little 'moodboard' of how it was all coming together in my mind…
So, this part of the process was all very straight forward – some might even say "enjoyable". But don't worry, as with every project in this house, it did all turn into a horrible saga.
But you can look forward to that in Part 2…