Is anyone else watching The Handmaid's Tale? I finally got on board at the weekend with a bit of a binge – I'm 4 episodes in, and I'm aware the finale has just aired in the UK, so I have quite a lot to catch up on! On the plus side, my being the last to the party means there won't be any spoilers!
It's really intriguing, but I've been having a moral dilemma over the last couple of days over publishing this post, and asking around the office as to whether it's in bad taste…The general consensus seems to be that as long as I realise that the Interior Design of the set isn't what I should be most interested in, then it makes it OK to discuss it. I hope you agree…
So, first things first, I truly do realise there's a lot going on in the programme and the concept behind it is wholly awful.
But, with my mind being constantly switched on to 'Interior Designer' mode, I'm also really intrigued by the set design…
This is the Commander's House in real life (it's never sunny in the show!) – Photo cred – onlocationvacations.com
If you don't know what it's about, it's based on the book of the same name, written by Margaret Atwood in the '80s. Here's a very brief roundup of a very complex storyline…
It's set in a place called Gilead, in "a dystopian near-future" under fundamentalist regime where females have become property of the state. It's generally a pretty dire place as the result of multiple environmental and natural disasters. An untenably low birth rate has resulted in innocent fertile females being trapped and kept as 'Handmaids' to have offspring for their 'Commander' and his wife. Cue lots of awkward scenes you wish you hadn't watched, and finding Joseph Fiennes completely unattractive for the first time ever. The show follows one main Handmaid, called Offred, and includes flashbacks to her life before the regime which shows how the 'new world' came to be.
So, yeah, it's pretty heavy. And like I said, I really know I should be thinking about the injustice and horror of it all – and I am to a certain extent – but I'm also wondering where the nice Mid Century dining chairs are from…
It's kind of like when Husband makes me watch football on the telly, and I tell him all the fabrics the TV studio chairs are upholstered in. Seriously, I think Sky Sports has an account with Osborne & Little.
Anyway, this programme, however chilling, is very on trend in its Interior set design…
I assume it's intentional; unsettling the viewer by making it seem like a believable and actually quite attractive place to live, if it weren't for all the awfulness. It's all very dark, which is a direct reflection of the life these poor women are living, but this too is especially popular in Interiors at the moment.
Here's some stills to (hopefully) show you what I mean. Or make you think I'm a total weirdo…
Picture cred – comingsoon.net
Nice wall colour, Joseph. Reminds me of Little Greene's Marine Blue (95) if you're in the market for some teal. Which lots of people are at the moment.
Picture cred – comingsoon.net
Dark grey walls, cute button back chair, ornate brass lamp, green metal bedstead. Nice. It's like a shopping list for a simple 2017 seasonal update.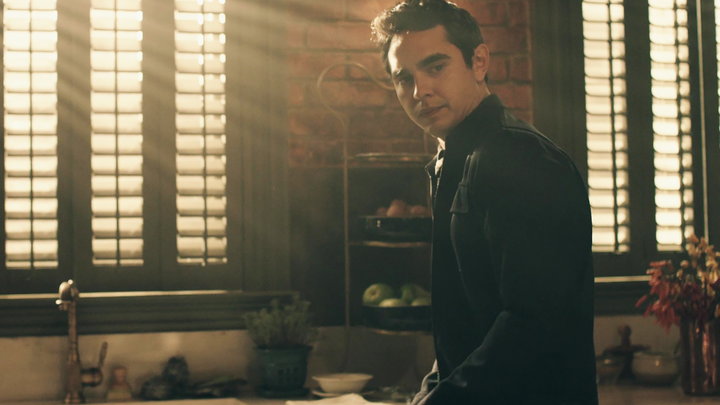 Picture cred – TVguide.com
Very nice shutters, very trendy exposed brickwork, lovely traditional style brass fittings. In all, quite a nice, aspirational looking kitchen. (P.S. 4 episodes in and we don't mind this guy).
Picture cred – businessinsider.com
Look at this for a set! Big Manhattan-style-loft glass and iron partition wall/doors, dark green walls, black painted Mid-Century dining chairs and a bunch of indoor plants. Take away the creepy lady and poor trapped Handmaid, and it's an Instagrammers dream!
Picture cred – mymbuzz.com
Another shot of my favourite room. You can see the nice chairs better here! They look like they might be Ercol. And a cool concrete floor – very industrial chic.
Picture cred – Take Five/Hulu
Chinoiserie and chintz are having a bit of a moment in Interiors currently, and these curtains, ornate marble fireplace, figurine lamp base and decorative bird-cage create a really on trend and pretty scheme.
So there you go. What do you think? Am I mad – or had the same thoughts crossed your minds?! Definitely one to watch if you want to be challenged; it is a bit dark and horrible, but there's some nice scenery to look at too…