It's almost May, but here in cloudy Wales, I am literally still tucked up in my fave blanket pretty much every day. Me right now;
Rocking the actual on-my-lap method of laptop usage. I know, it's probably no good for my posture.
When I was a kid, I nicked one of Mother's freshly washed hand towels from the airing cupboard and it promptly became my comfort blanket, aptly named "Blankee", so it seems I've always been a fan of a blanket.
Anyway, point being, that sometimes there's nothing better than a good blanket to huddle up under, and in the UK, we get plenty of use out of them – so could well be worth a little investment to make it a worthy addition to your Interior decor too!
I am the devil on your shoulder, so here are some absolute beauties from which to choose your next pick… you know you really do want need a new one!
Cob Weave Pure Wool Blanket, £55, Hare & Wilde
It wouldn't be right for my first pick not to be blue (my absolute fave interior colour) and this is a gorgeous design – the texture just looks like it's waiting to be cuddled. The 100% wool content will make it super-duper cosy and is a lovely example of British made homewares.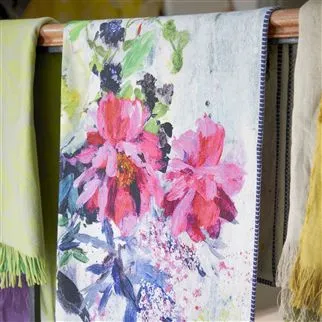 Aubriet Throw, Fuchsia, £225, Designers Guild
Never mind using it as a blanket, this should be a work of art! (Seriously, I wonder whether you could pin it up as a wall hanging?! I'm imagining it hung behind my bed as an interesting alternative to a headboard) A digital print masterpiece of a blanket here, with a vibrant watercolour style floral pattern. It really is lovely and could be a stand out accessory in an otherwise neutral lounge or bedroom, or it would stand its ground as part of a full on eclectic, multi-colour scheme.
Yalou Throw Blanket, Ecru, £59, La Redoute
Look at those tassels!! I love the ethnic texture and colours in this throw blanket; it would fit in perfectly with a, bang-on-trend, 'Fusion' inspired lounge. Combine with brown leather sofas, mango wood furniture, rattan storage baskets and other mustard yellow accents.
Mugnaro Cotton Voile Blanket, ecru/blue, from £79, also from La Redoute
Sorry, I know it's not cool to use two ideas from the same place, but I couldn't choose between these two La Redoute offerings! I think they sum up my split Interior personality pretty well! This subtle blue number is just dreamy and would gorgeous in a simple, coastal inspired bedroom with white linen and bleached wood furniture.
Morris & Co Pimpernel Bedspread, £176, John Lewis
I'm letting my inner Traditionalist free with this choice, in contrast to my other picks. I think the updated colour palette makes this classic design really usable and would make a lovely feature in a cosy guest bedroom. If it were up to me, I'd complete the look with deep Forest Green painted walls, a decorative black iron bedstead, ivory bed sheets and brown antique oak furniture for a country hotel luxe feel.
Multistripe blanket, Sand, from £220, Melin Tregwynt
I wouldn't be a sane person, living in Wales, writing about blankets, and not mention Melin Tregwynt in here somewhere! A company based in Pembrokeshire, South West Wales, Melin Tregwynt is synonymous with blankets in these parts! And I adore this new colourway of a classic striped blanket. The colourway called 'Sand' really does make me think of beachy tones and childhood seaside picnics. It would look equally at home within both contemporary and traditional themed rooms.
I will have one of everything, thank you!